Crossfit NWA – CrossFit
Warm-up
Warm-up (No Measure)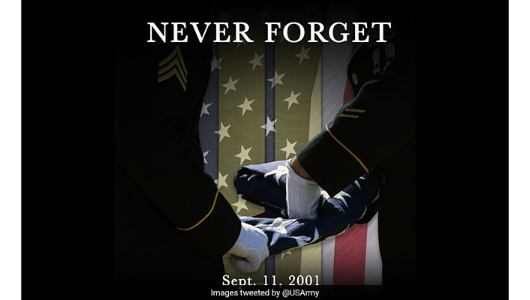 Remembering all those that lost their lives on the 20th anniversary of the September 11 attacks on our nation
Metcon (Time)
"Never Forget"

2 Person Teams
Buy In

2001 Meter Row (*if no rowers 1600m Run optional)
4 Rnds of

9 Burpee Box Get Over 48/40″

11 Clusters
Buy Out

2977 Meter Row (*if no rowers 2400m Run optional)
35:00 cap
1.135/95

2. 115/85

3. 95/65
Cluster = Squat Clean Thruster
Stimulus

– Conditioning Category: Hero/Team Workout
– On September 11, 2001, 19 militants associated with the Islamic extremist group al Qaeda hijacked 4 airplanes and carried out suicide attacks against targets in the United States. 2 of the planes were flown into the twin towers of the World Trade Center in New York City, a 3rd plane hit the Pentagon just outside Washington, D.C., and the 4th plane crashed in a field in Shanksville, Pennsylvania. 2,977 people were killed during these attacks. Today, we'll honor, remember, and recognize each and every person who lost their life on 9/11, 20 years ago with every single meter of our final row.
– Work together with a partner and split the work however you'd like. While one athlete works, the other rests.
– Each bear complex should be completed unbroken. You can do multiple reps in a row or switch off with your partner after every fully completed rep.
– Score: Time
Strategy

– With the built in rest, we should try to push the row to get to the couplet as quick as we can. The movements are slower reps so we'll be able to perform them coming off the row even with a slightly high heartrate.
– Keep the straps loose on the rower and plan how you'll switch off (which way to exit/which way to hop on).
– Switch off with your partner after every rope and every bear complex. If you see that your partner needs some relief, offer to pick up an extra rep so they can take some extra time to recover.
– Dig deep and push the final row.