Crossfit NWA – CrossFit
Warm-up
Warm-up (No Measure)
We will reset the clock at 8:30 and again at 10:00.

Warm Up on your own and be ready to go. Warm Suggestions (choose from the list to prime the body)
Skills & Drills

High Knees

Butt Kickers

Straight Leg Kick

Side Shuffle + Jumping Jacks

into

Leg Swings Forward/ Lateral

Lunch + Pass Thru
2-3 sets

7 Ring Rows (Or body rows)

7 inchworms

10 hanging scap retractions

10 Air Squats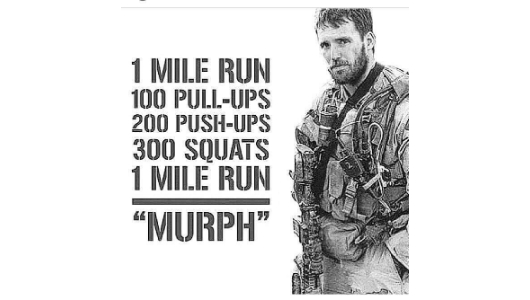 Murph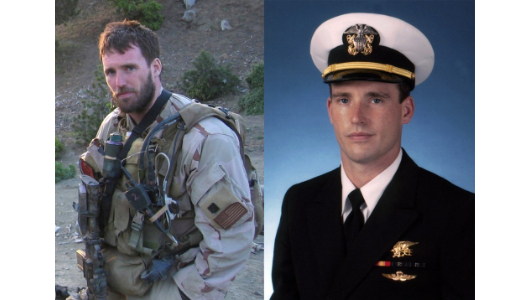 Lt Michael P Murphy
Murph (Time)
For Time:

1-Mile Run

100 Pull-ups

200 Push-ups

300 Air Squats

1-Mile Run

If you have a 20# vest or body armor, wear it.
In honor of Navy Lieutenant Michael Murphy, 29, of Patchogue, NY, who was killed in Afghanistan June 28th, 2005.
To learn more about Murph click here
TARGET SCORE

Target Time: 50 minutes
Time Cap: 1 hour 30 minutes
Partner up if you would like. You can both run the mile or you can split it up as needed. Split reps as needed.
STIMULUS

Murph time!
Honor our veterans and be thankful for our Freedom! This is always an aerobic piece that we can test our mental toughness during.
WORKOUT STRATEGY & FLOW
Run: Consistent pace you can do the first and last mile at! Don't come out hot.
Pull ups: Stick to manageable sets of 5-10 out of the gate. Keep the kip forceful and fast to save the arms
Push ups: Start with smaller sets than you think you should! There's nothing wrong with coming out with sets of 3-5 fast sets every 15-20 seconds and doing bigger sets near the middle or end. Don't fry out!
Air Squats: Just stay moving as much as you can and grind through it! Keep weight mid foot and use those glutes/hips! Mentally thinking of it in sets of 10-15 can help.
Modified Murph (AMRAP – Rounds and Reps)
Scaled/Modified MURPH
Run 800m

50 Pull Ups

100 Push Ups

150 Air Squats

Run 800m
or
AMRAPx20

Run 200 or Row 250

5-10 Pull Ups/Ring Rows

10-15 Knee Push Ups or Box Push Ups

15-20 Air Squats